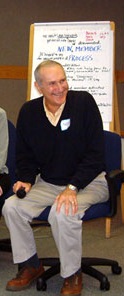 A SHORT AUTOBIOGRAPHY…
For those who are doing class projects or are just curious, below is a summary of my life and work. I have never made much of a distinction between the personal and professional. (I was lucky to be a partner in a consulting firm where we supported each other in balancing work and family.)
At present I am co-director of the non-profit Future Search Network (FSN), which Sandra Janoff and I founded in 1993 to engage consultants and local leaders in voluntary social change. We have served as unpaid co-directors since. The Network has members on every continent, collaborating to help people improve their lives in the arts, business, communities, education, environment, health care, social services, technology, and other sectors. We have trained more than 3000 people in Future Search and managing large diverse groups–in Africa, Asia, Europe and North America. Sandra and I also manage Future Searches and consult with anyone who wishes to make a difference in their community or company. I intend for this web site to further the work of FSN.
I am an emeritus member of the European Institute for Transnational Studies and a fellow of the World Academy of Productivity Science. Since the 1980's I have been a resource faculty member in the Organization and Systems Renewal Program, formerly at Antioch University in Seattle and now housed at Seattle University. I also participate as visiting faculty in the doctoral program in Organization Development at Benedictine University, Lisle, IL.
ORGANIZATION DEVELOPMENT (OD) CONSULTING
I was an OD consultant from 1969 to 1992. I joined with Peter Block and Tony Petrella in the early 70's in what became the consulting firm Block Petrella Weisbord and the training company Designed Learning. I did about 100 major projects, working with such clients as Atomic Energy of Canada, Avery International, Bethlehem Steel, Johnson & Johnson, General Electric, PQ Corporation, Rohm & Haas, Scott Paper, G.D. Searle, Warner-Lambert, and the Wilmington, DE, Bureau of Police.
My workplace consulting took many forms, usually based on action research aimed at improving organizational performance and employee satisfaction. I did several projects involving the restructuring of factories, offices, and in a few cases whole corporations. Most of this work I reported in Productive Workplaces (1987) and Productive Workplaces Revisited (2004). I was a founder of the Philadelphia Area OD Network in 1970, and was honored with a Lifetime Achievement Award by the National OD Net in 2004–an award that came as a great surprise since I had been out of the consulting business for so many years.
For 20 years I was a member of NTL Institute for Applied Behavioral Science where I ran T-groups and learning laboratories in organizational diagnosis, team building and consultation skills. I trained many consultants in Sweden and Norway starting in 1975 and was a Visiting Research Scientist working with Max Elden at the Norwegian Institute of Technology, Trondheim, in 1987.
I also did research on medical systems in the 1970's with Paul Lawrence and Martin Charns of Harvard Business School in 10 academic medical centers including Stanford, New York University, Medical College of Pennsylvania, Michigan State, Arizona, New Mexico, and Vermont. In the 1970's I was a Senior Fellow at the Leonard Davis Institute of Health Economics at the University of Pennsylvania. Much of my writing in the late 1970's and 1980's concerned the differences between medical and industrial organizations and the implications for practice in each.
What I know about OD I learned "in the streets" working as a business executive in the 1960's and a consultant for 22 years after that. I learned a great deal about consulting from Peter Block and Tony Petrella in our partnership, and got most of my group dynamics training running labs with talented colleagues in NTL Institute in the 1970's, notably Billie Alban, Allan Drexler, Gail Silverman, and Peter Vaill. I also ran a nine-day personal growth workshop–Men at Work–with John Weir and the late Michael Merrill for several years in the 1990's, learning much about the human condition in general and even more about myself.
WRITING
I studied journalism in college and started out to be a professional writer. Until the early 70's I wrote articles for periodicals such as The New York Times Magazine, Family Circle, True, Sports Illustrated, Kiwanis, Reader's Digest, Coronet, Pageant, The New Republic, The Reporter and The Progressive. In those years I also published Campaigning for President (Public Affairs Press, 1962, Washington Square Press paperback, 1965), and Some Form of Peace (Viking, 1967), a book of adventure stories of activists associated with the American Friends Service Committee. I have been a member of the American Society of Journalists and Authors since 1962.
I was an associate editor of The Journal of Applied Behavioral Science from 1972 to 1978. I've written articles for that journal and many others including Health Care Management Review, Group and Organization Studies and Organizational Dynamics. I'm the author of Organizational Diagnosis (Addison-Wesley–now Perseus, 1978) and Productive Workplaces (Jossey-Bass, 1987), both used as texts in dozens of colleges and universities. I conceived and co-authored Discovering Common Ground (Berrett-Koehler, 1992), which traces the theory and development of Future Search and related planning events around the world. I'm co-author with Sandra Janoff of Future Search: An Action Guide (Berrett-Koehler, 2nd ed. 2000).
OTHER LIVES

I learned management in the 1960's as executive vice president of a direct mail business forms manufacturing firm. There, after reading Douglas McGregor's The Human Side of Enterprise, I created one of the first self-managing team-based workplaces in the United States. I didn't know that at the time. Only later did I come to recognize what I had done as "sociotechnical systems" work design. You can read more about this adventure in the Prologue to Productive Workplaces Revisited (Jossey-Bass/Wiley, 2004).
I was a co-founder of Blue Sky Productions with Allan Kobernick and Sandra Janoff in the 1980's and wrote or helped produce more than 30 videotapes on workplace improvement, including the Productive Workplaces Video Workshop that was used by more than 100 companies. It is now available on DVD from Queens University in Kingston, Ontario. It includes short video histories of Scientific Management, Participative Management, Sociotechnical Systems Design, and Whole Systems strategies for improving workplaces.
My academic training and early work experience was in journalism and the social sciences. I'm a graduate of the University of Illinois (BS 1953) and the State University of Iowa (MA 1955) and I did graduate work at the University of Pennsylvania (1959-61). I was a U.S. Navy Journalist (1955-57) and an instructor in journalism at Penn State (1957-59).
I have been married to Dorothy Barclay Weisbord since 1956, and we have four children–Joe, Bob, Nina, and Dano. They in turn have given us Chloe, Isabel, Carson, Lowell, Reid, Meiyi, and Sylvie to all of whom I dedicated Productive Workplaces Revisited. I find no work more satisfying than grand parenting.
For recreation I have the piano. I have been a student of jazz for more than 50 years, ever since I stood mesmerized by Nat King Cole as his trio performed at my high school prom. I play piano with the Sunday Jazz Ensemble, a group I helped organize in the early 90s'. "Route 66," written by Bobby Troup and made famous by the King Cole Trio is among our featured tunes.